Lenovo 5G in a box
Lenovo has a commercial offering that might be intertesting for venues and festivals:
https://lenovopress.com/lp1483-5g-in-a-box-the-game-changer-for-telco-industry-leaders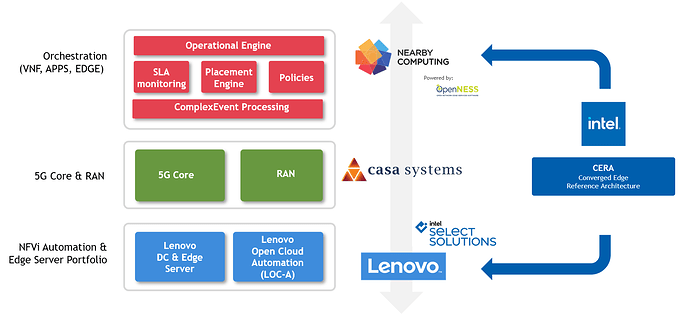 The solution covers all the aspects related to an advanced edge orchestration platform (NFV, Applications, MEC, Edge), and physical infrastructure management, which has been overlooked in the past but clearly represents a pain point in day-to-day network operations. Thus, the solution includes the necessary HW infrastructure, SW components as well as their automated deployment and management.
Lenovo provides a comprehensive and unique portfolio of Data Center and Edge Servers as well as Lenovo Open Cloud Automation (LOC-A), a cloud infrastructure deployment and management solution that will rapidly deploy, optimize and manage NFV cloud infrastructure for bare metal servers, containers and VMs. LOC-A can provision OpenShift, VMWare and Kubernetes clusters

Nearby Computing provides the Nearby One solution, an orchestration platform that goes beyond market standards to manage all tiers of the network, from Cloud and Data Center to Edge, from a single pane of glass

Casa Systems delivers converged ultra-broadband LTE/5GSA and wireline broadband infrastructure as well as a range of small cell solutions specifically designed to address indoor and outdoor capacity and coverage applications. Casa Systems 5G Core was designed using their web-scale Axyom™ decomposed, microservice based software architecture. The Axyom common software framework includes Casa Systems' Kubernetes-native service components, and the software that manages those micro-services. Casa has worked with partners, to test and deliver a complete best-of-suite 5G Core solution.